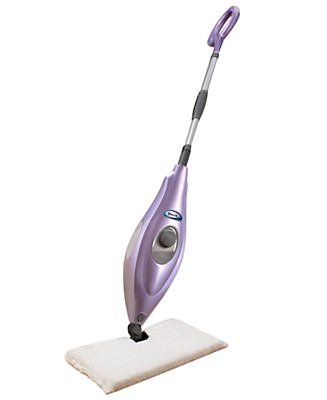 I hear the doorbell ring, and so I go to check it out. There is a small package, with my husband's name on it, which is a very recognizable package. I knew instantly it was yet ANOTHER remote for our TV!
As I turn around to go back in the house, I notice a large box sitting a little further away on the porch, so I walk over to it, and immediately assume that it's some kind of satelitte dish box, or something of that nature. I grab it, walk in and set it on the couch.
Later I walk by the mystery box, and notice that it says " for house hold use only" on the box. I am now intrigued..... So I proceed to investigate. I open the first part of the box, and I was overwhelmed instantly!
I knew the second I saw a funny looking spongy thing what it was. It's a shark steam cleaner.
I know, you thinking this is corny and something so lame to be excited about! -- But if you know anything about me, you know I'm a little, eh, paticular about the order and cleanliness of my house. Especially since having Anisten. She is on the floor all the time, and I can't stand when she gets dirty due to the fact that the dogs track in dirt from the yard. I just can't sweep and mop everyday! I do try to sweep and swiffer the hardwoods one to 2 times a week, but that gets to be a huge process! Now, I can do it with MUCH ease!
The steam cleaner comes with a couple of different attatchments. It has a triangle looking head, a small rectangle, and a large rectangle. The triangle will be for cleaning around the toilets and funny shaped places like that. And the smaller rectangle has this foamy, fuzzy cloth thing that goes on it. It takes the place of sweeping. I love it. I do feel like I may have to spot sweep as well like in the corners, and the base boards, but for quickness, and spot cleaning the cloth sweeper will work perfect! Especially if I'm holding a child in the other.
I tried out my steamer for the 1st time today. And here is my little review.
I like how compact and light the product is.
Easy to use, only add water.
Dries super fast! I was able to do it while the baby was up, and she would crawl where I just mopped and it wasn't wet.
The mop is nice and large, and can cover big areas. ( My living room is 3/4 of my house! LOL)
I do feel like it's a little harder to "push" I guess more like a real mop. I'm so used to using the swiffer and doing it one handed. It's ok, I'll have buff arms!
I also feel like it could release a little more moisture/steam to help it glide a little better.
All in all I know that I will LOVE my new steamer. Instead of waiting as long as possible to mop, I will be able to do it comfortably 2 times a week. The money I will be saving just in swiffer solution will pay off the shark in no time.
This come highly recommended from an uptight house wife with hardwood floors! :-)